Blog Week 31
Last updated on
What a feast of new artwork we have had into the gallery in the last few days. From contemporary and rising stars of the art world to twentieth century icons, we really do have something for everybody this week in the gallery.
'Britain's Last Forgotten Twentieth Century Master'*
Theodore Major
It is always a great joy when we are fortunate to purchase a timeless painting many years after it was painted. Such is the situation with the next painting which was executed in 1948 by the late Theodore Major. Now over seventy years since it was first painted and exhibited via the Arts Council of Great Britain, we have had the great opportunity to purchase this magnificent painting and offer it in the gallery.
Rarely do we have the opportunity to offer such a painting and the thick impasto oils are a joy to behold. Signed and dated to the reverse complete with the Arts Council exhibition label, this is true collectors piece and a great find prior to a major book launch about the artist in early 2020.

* Quote from Michael Howard, author of 'Lowry, A Visionary Artist' and the upcoming Theodore Major books.


Brad Faine and Sir Peter Blake

We have framed some amazing contemporary limited edition prints this week which are breathing a modern breeze over the gallery.

One of these intriguing pieces is the incredible 'I'd Like to Thank' by Brad Faine. Depicting 77 years of iconic Oscar clips, 'I'd Like to Thank' takes us through decades of popular culture and is an amazing and fascinating must for any film buff.
Taken from a hand signed limited edition run of only 50 worldwide, we are sure that anybody viewing this piece will be both captivated and mesmorised. Full details are available on the website now or even better by viewing in person in the gallery this weekend.
I'd Like to Thank by Brad Faine, £1295 framed with clarity glass.
The Brad Faine is currently hanging in the gallery alongside some incredible limited editions from the legendary Sir Peter Blake, known as the Godfather of Pop Art and responsible for the phenomenal Beatles album cover for Sgt Peppers Lonely Hearts Club. Both the stunning Diamond Dust edition of 'American Trilogy' and a selection of editions from the sell out 'Homage to Damien Hirst, Butterfly Man' series are available to view and purchase now.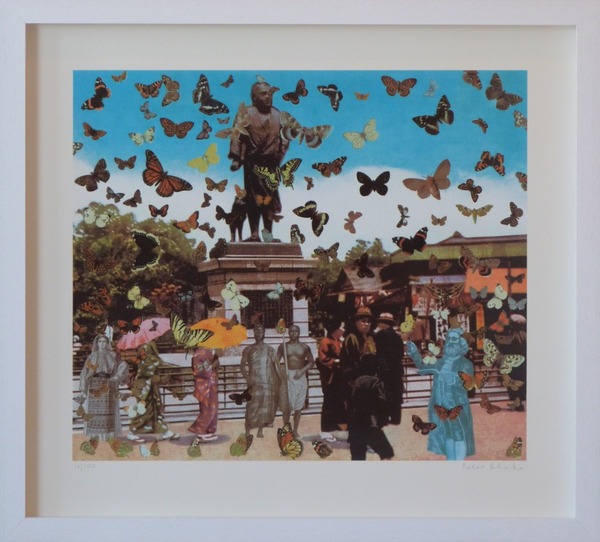 New Originals from Caro Saint Vire
Caro Saint Vire has become one of our exciting new up and coming artists in 2019 with all of her original works coming into the gallery and selling out quickly. With this in mind, we are thrilled to have acquired three stunning new original paintings this week.
Timeless Skies by Caro Saint Vire, £2400
Although graduating from Brighton University, Caro's time living in the Swiss Alps inspired the big dramatic skies that she paints now. The incredible atmosphere of these paintings really must be seen to be believed and we encourage everybody to try and call at the gallery to view these amazing paintings in person.
New Originals from David Renshaw, Anne Blundell & Terry Evans
Another eternally popular artist in the gallery is Southport's David Renshaw. His latest 'Northern Romance' paintings are featuring romantic moonscapes such as the gorgeous new 'To the Moon and Back' original shown below. This beautiful original is on show in the gallery now along with two other pieces by the artist so do check them out on the website now.
We have also acquired a new collection of original paintings by Terry Evans this week including seven new oils. Full details are available online but we have showcased a new seascape below as a wonderful departure from his classic woodland scenes.
The Evans originals are also complemented this week by new original paintings just in by Anne Blundell. Three new originals are available on the website now with just one below as a little taster.
Summer of Love by Doug Hyde
This week has seen the unveiling of the latest major collection by Doug Hyde entitled 'Summer of Love'. The collection consists of a series of limited edition prints which will be in the gallery next week and new bronze and resin sculptures which will follow in September. All of the new editions are available to view and pre order online prior to their arrival so do take some Summer inspiration from Doug when you get chance.
World Exclusive Sculpture – Clementine
This week we also launched our 2019 exclusive Hepplestone Frogman bronze sculpture, Clementine. The Frogman has once again given us the honour of commissioning our very own exclusive to coincide with our exhibition on 19th September and she is already selling fast with editions being shipped to London, Canada, Germany and the USA within the first few days.
As an edition variation of the popular 'Churchill' sculpture, 'Clementine' has been produced in a breathtaking white patina and has been strictly limited to only 20 editions worldwide. Although this amazing sculpture has been designed for our September show, the first few examples have arrived in the gallery this week and are available to view and pre order now. Given that 'Josephine' sold out and so many collectors were left disappointed, we encourage collectors to contact the gallery without delay if you are interested in giving one a home.
ull pricing and size details are available on the website now by clicking here