New from Geoffrey Key, Lowry and Isherwood
Last updated on
It has been another busy month for Northern Art in the gallery again and we have secured some wonderful new collectible pieces this week including works by James Lawrence Isherwood, L S Lowry and Geoffrey Key.
James Lawrence Isherwood
SOLD
This fabulous new original oil painting by Isherwood depicts Queen Street in Wigan, one of the late Wigan artist's most sought after subject matters.  Isherwood's paintings have continued to sell out of the gallery on arrival this month so we are thrilled to have secured this particular example.  Click here for full details.
Geoffrey Key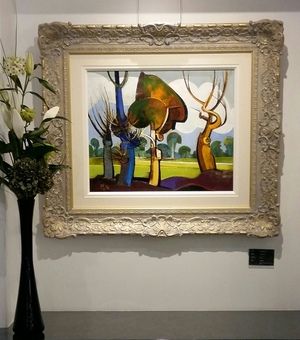 Named by Lancashire Life magazine as Lancashire's greatest living artist, Geoffrey Key needs no introduction to Northern Art collectors.  The stunning example above entitled 'Reservoir Sun' is one of his most striking landscapes and is in the gallery now so do call and take a look if you get chance.  Details are available also online here.
Other Geoffrey Key pieces are also available in the gallery including original oils, ink drawings and silkscreen limited editions.
L S Lowry
A selection of new L S Lowry limited edition prints have been framed this week and are looking amazing.  Rare hand signed editions of Crime Lake, Two Brothers, Industrial Scene, The Contraption and Level Crossing are now in stock along with a host of other collectible Lowry limited edition prints.
SOLD