Blog Week 29
Last updated on
Another action packed week in the gallery has flown by with new releases and art arrivals in the gallery along with some exciting impromptu artist visits.
The Latest Collection from Extreme Artist Philip Gray
With Philip Gray's next exhibition at the gallery due in October, we were delighted this week to see what he has been up to recently with the arrival of his latest collection of limited edition prints.  As well as two fabulous examples of his mountainscapes and seascapes, the new collection also includes a limited edition from his latest expedition incorporating underwater paintings from his 'Lost City' dive in China.
Each of the new editions are from signed limited runs of just 195, priced at £575 each and are all in the gallery now and available to view and order also online here.
Along with the new Philip Gray's, we have also received the latest amazing sculpture from Doug Hyde just yesterday.
As ever with Doug, the vehicle sculptures are always incredibly popular and as such we only have one left available (at time of writing).  If you have fallen in love with this amazing piece, please don't delay and order online now or by contacting the gallery – you won't be disappointed.
New from David Renshaw
David Renshaw has also been busy and wowed us again with his latest original painting just in today.  Lunar Love is available now so we do hope that you get chance to call and view it in the gallery.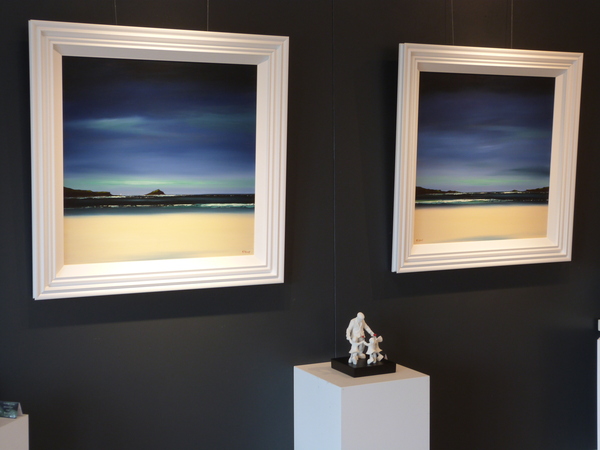 Above we also have a very rare opportunity to purchase two of Michael Ashcroft's early seascape paintings. We have been very fortunate to be able to acquire these large paintings and are able to offer them incredibly well priced for the artist's work at just £795 each including framing as shown. Both have an image size of 30″ x 30″ so are incredible statement paintings and really must be viewed to be appreciated. These are not currently available online so do call in or contact the gallery to discuss them in more detail.
And Finally……..
On a final note, we currently have a wonderful selection of original paintings by Geoffrey Key on show in the gallery and were honoured to catch up with him at an exhibition at Porsche Centre Bolton on Thursday evening.  
We were delighted to be asked to showcase some of our collection at the prestigious showroom as part of a 'Porsche Exclusive' event offering the best of bespoke and personal service in Lancashire.
The paintings are now back in the gallery so we do hope that you get chance to call in over the next few days to say hi and enjoy with work.